Description
NEW M5 GPS Electric Trolley
Compact and easy-to-fold, the M5 GPS is the world's first compact trolley to offer fully‑integrated GPS built into a super-responsive 3.5" touchscreen display. Easily viewable no matter the weather, the screen can be easily controlled in all conditions – even while wearing a glove.

Boasting 40,000 pre-loaded courses with distances to the front, middle and back of the green, plus hazards, the M5 GPS offers the ability to move the flag position for more accurate shot preparation. Packed with features, the high-resolution touchscreen display also includes a Clock, Round timer and Score tracking, plus the par and stroke index of each hole, shot distance measurement, automatic hole advancement and a battery meter.
Offering the potential to save lives, the trolley can also indicate the availability and location of on-course AEDs and provide golfers with CPR instructions to administer to anyone suffering a cardiac arrest. This brand new feature has been backed by over 700 golf clubs across the UK.
The M5 GPS can also be connected via Bluetooth to the free Motocaddy GPS app to offer a wide-range of smartphone notifications including missed calls, texts, emails and range of app alerts, including WhatsApp and Facebook. In another industry first, the trolley also offers built-in WiFi for super-fast Over‑the‑Air course and system updates.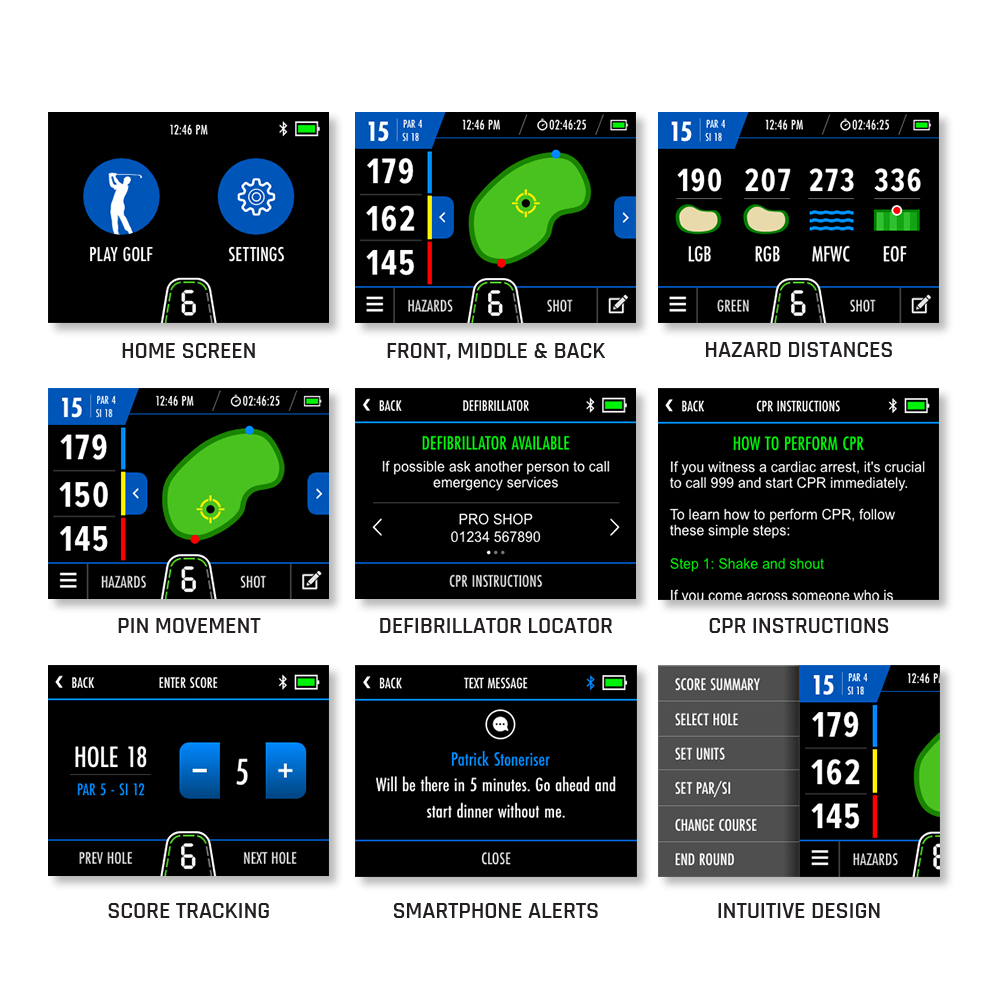 Features
World's first compact touchscreen trolley
Revolutionary folding technology with game-changing touch display
High resolution 3.5" LCD touchscreen display
Crystal clear & ultra responsive in all weather conditions
Fully integrated, high-performance GPS
Convenient, accurate & removes the need for external GPS devices when playing golf
40,000 pre‑loaded courses ‑ no subscription
Automatically finds local courses in seconds
Distances to front, middle & back of green, plus hazards
Quickly access all the information you need to plan your next shot
Drag & drop pin positioning
Move the flag position for accurate shot planning
Smartphone alerts (missed calls, texts, emails & apps)*
Optional alerts keep golfers updated with life off the course
Score tracking
Handy on-screen scorecard helps golfers track their round
Shot distance measurement
Provides golfers with valuable distance data
Automated External Defibrillator (AED) locator & CPR instructions (UK only)
Quick access to location of on-course defibrillators & easy-to-follow CPR instructions
WiFi powered, Over‑the‑Air updates**
Easily connect to WIFI through the trolley handle for rapid course & system updates
Simple, compact-folding system
Award-winning M-Series folding technology
SlimFold car boot friendly design
Fits into the smallest car boots for easy transportation & storage
Next generation, High Power 28.8V system
More powerful, efficient, & reliable than ever before
Nine-speed settings, Speed indicator & Battery meter
Stay in complete control with a quick glance at the handle display
Clock & Round timer
Helps keep golfers on track with the pace of play during a round
Adjustable Distance Control (up to 60 yards/metres)
Set the trolley to travel a selected distance with 5 yard/metre increments
USB charging port
Ideal for charging any USB powered device during a round of golf
Super‑lightweight, waterproof Lithium battery
IP66 water & dust rating for effective protection against the elements
On board charging
No need to remove the trolley's battery for storage & transportation
Oversize tubing for ultimate handle stability
Thicker frame profile combines with premium quality materials for unrivalled performance
Innovative inverting wheels
Revolutionary space-saving technology - flip the wheels to fit into the tightest spaces
Convenient auto‑open stand
Allows the trolley to stand upright for minimised folded footprint
Simple, fully-adjustable handle height
Ensures the M5 GPS is suitable for golfers of every height
Powerful, whisper-quiet 230W motor
Quiet, exceptional power
EASILOCK™ compatible
Securely attach your Motocaddy golf bag without a lower bag strap
Specifications
WEIGHT: 10.50kg
DIMENSIONS: 650mm (L) x 470mm (W) x 410mm (H)
MOTOR: 230w
VOLTAGE: 28V
MATERIAL: Aluminium
WARRANTY LENGTH: 24 months
COLOUR OPTIONS: Graphite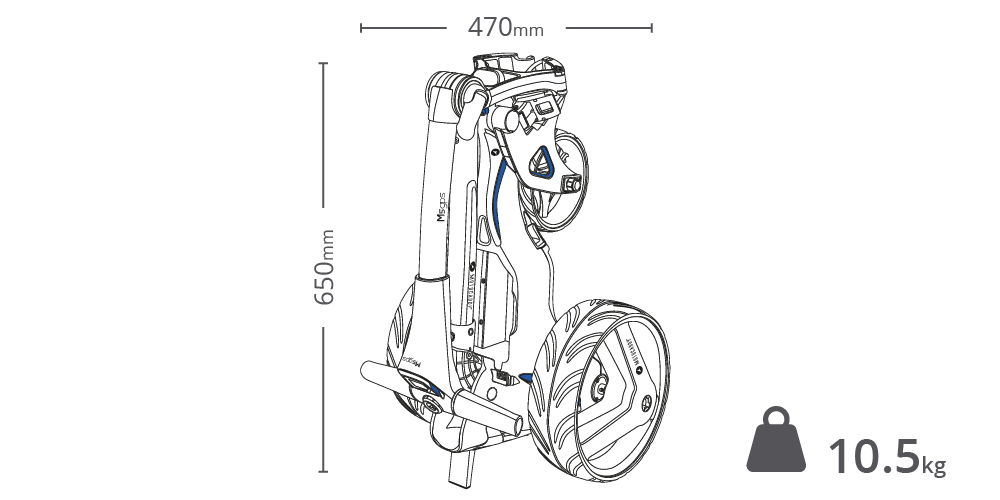 Payment & Security
Your payment information is processed securely. We do not store credit card details nor have access to your credit card information.